Image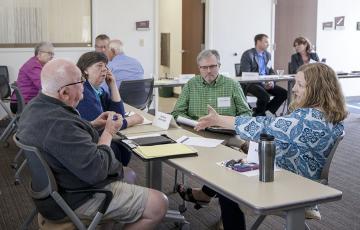 The Citizen and Business Group will identify and recommend projects to the MPCA and DNR for funding with money from the 3M Settlement. To assist the group, subgroups will be established to analyze options and deliver assessments and advice on alternatives and options.
This group will review the work products of the subgroups and provide recommendations on projects and priorities to the MPCA and the DNR for their approval. The Citizen – Business Group also shares advice and recommendations with the Government and 3M Working Group.
Next scheduled meeting
Structure
This group is composed of MPCA, DNR, and about 15 at‐large citizen, business, and nongovernmental representatives who live or are working in the East Metropolitan Area.  Applicants were nominated or self‐nominated.  Representatives on the group were selected by the DNR and MPCA. One representative from the Government and 3M Working Group will also be a liaison to this group.
This group will meet at least once a quarter, or more frequently if needed, will be briefed on all work in progress, and will provide input on work in progress and topics to explore.
Minnesota Department of Health (MDH) and the Metropolitan Council, while not members of the Citizen – Business Group, will be invited to consult on regulatory and policy topics in their area of expertise.
The MPCA and DNR will assist and support the group.
The meetings will be open to the public, and time will be reserved at the end of each meeting for public questions or comments.
Group members
The following criteria were used to select a diverse representation from the affected communities:
Evaluation of desire to become a member
Evidence of East Metropolitan Area involvement either as a resident or working in the area
Skills and abilities, such as personal and professional background and skills, technical abilities, or experience in public engagement, public involvement, or group participation.
Geographic diversity within the East Metropolitan Area
Ethnic and age diversity
Representation of individuals and businesses who are on private wells and municipal drinking water
Diversity of knowledge, skills, backgrounds, and experiences
| | |
| --- | --- |
|  Name |  Community |
|  Julie Bunn |  Lake Elmo |
|  Lisa Mueller |  St. Paul |
|  David Filipiak |  Woodbury |
|  Charlotte Flint |  West Lakeland |
|  Bob Fossum |  Lake Elmo |
|  Jeff Holtz |  Lake Elmo |
|  Mark Jenkins |  Maplewood |
|  Steve Johnson |  West Lakeland |
|  Katie Johnston-Goodstar |  Maplewood |
|  Jack Lavold |  Cottage Grove |
|  Michael Madigan |  Woodbury |
|  Barbara Ronningen |  Afton |
|  Amy Schall |  St. Paul Park |
|  Dave Schulenberg |  Cottage Grove |
|  Monica Stiglich |  Oakdale |
Past meeting materials
April 2023
April 2023 Priority 1 Combined Work Group Meeting Notes - to be posted
No March 2023 Meeting
No February 2023 Meeting
January 2023
No December 2022 Meeting
November 2022
No October 2022 meeting
No September 2022 meeting
No August 2022 meeting
July 2022
No June 2022 Meeting
May 2022
No April 2022 Meeting
No March 2022 Meeting
No February 2022 Meeting
January 2022
No December 2021 meeting
No November 2021 meeting
No October 2021 meeting
September 2021
No August 2021 meeting
No July 2021 meeting
June 15, 2021
No May 2021 meeting
No April 2021 meeting
March 2021
February 2021
December 2020
Minnesota Department of Health's presentation
November 2020
October 2020
September 2020
No June through August meetings
May 2020
April  2020
February 2020
January 2020
November 2019
This presentation was not reviewed by the 3M Settlement Co-Trustees and does not necessarily represent the official policy position of the Co-Trustees.
October 2019
September 2019
August 2019
July 2019
One hour conference call/WebEx
Topic discussed: Expedited projects - under the Minnesota's Data Practices Act, funding decisions are not public information until all grant agreements are signed and executed. The goal is to notify the individual applicants of funding decision by the end of July.
June 2019
May 2019
April 2019
February 2019
January 2019
December 2018
November 2018
October 2018
September 2018
August 2018
July 2018