Money from the 3M PFC Settlement is funding a variety of projects to enhance the quality, quantity and sustainability of drinking water in the East Metropolitan Area in the Twin Cities.
There are four main types of projects that vary in terms of scale, cost and time required to plan and complete. Some communities may have just one type of project planned while others may implement a combination of project types.
Build new or expanded water treatment plant
Image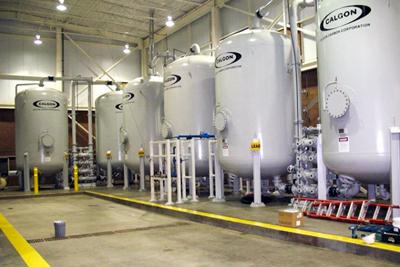 Planning and building an entirely new or expanded water treatment plant represents the greatest commitment of time and money.
Most commonly, these projects involve installing large-scale vessels/chambers containing granular activated carbon (GAC) media that filters PFAS from groundwater. This GAC media needs to be replaced every so often (as determined by monitoring and testing).
This type of project could also involve centralizing water treatment plants, installing new wells, abandoning wells, re-routing water lines, and other changes.
In situations where a community has a system that is adequately treating PFAS contamination, then discovers additional contamination, expanding the treatment system might be more practical than building an entirely new water treatment system.
Increasing capacity at an existing site would involve expanding or adding additional buildings and GAC filter media. It might also involve adding new wells and water lines to the existing system.
Expanding existing facilities could also include rerouting water lines for new or existing wells.
The time needed to plan and build a new treatment plant can range from approximately three to 10 years, depending on size. Generally speaking, expansion projects require 2-5 years to plan and build.
The settlement covers the operation and maintenance costs of municipal water supply wells that have been tested and have levels of contamination meeting the treatment threshold. 
Start times for this type of project will vary. Some may take a few years until a community is ready to move ahead with their plans.
Locations
Install whole-home water filter systems
In some cases, the most appropriate form of PFAS treatment for homes that currently rely on private wells for drinking water is to provide each residence with a whole-home water treatment system. These systems are based on the same technology used in large municipal water treatment systems but on a much smaller scale. City and home treatment systems both use GAC (granular activated carbon) filters to filter PFAS from groundwater.
This type of treatment system for homes has a proven track record in Minnesota. Over a number of years, the MPCA has installed many of these filters where they are successfully treating groundwater contamination from a variety of sources.
The MPCA will continue to install and maintain systems for homes and businesses where testing has resulted in a health advisory being issued at not cost to the homeowner.
In addition, treatment may also be provided for locations where contamination is at least half the level that would trigger a health advisory as a precaution in case PFAS health guidance or sampling results change in the future. This provides an extra margin of water treatment system resiliency in areas where PFAS contamination is a concern.
Installation of whole-house systems typically takes place during warm weather months.
Locations
All communities (except Prairie Island Indian Community)
Connect homes to public water supplies
Image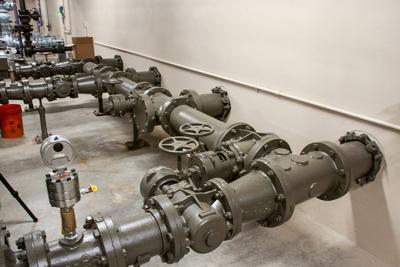 In some areas of a community where numerous homes are served by private wells with elevated levels of PFAS and municipal water supply lines exist nearby, the Co-Trustees are recommending connecting all homes in the area to the municipal water supply.
In communities where there are specific neighborhoods with significant numbers of wells impacted by PFAS, all homes in those particular neighborhoods will be connected to existing municipal systems.
In situations where there an existing water supply line in front of a home, that home will be connected to the water supply line.
In addition, connections to homes may be provided where contamination levels are at least half the level that would trigger a health advisory as a precaution in case PFAS health values and/or sample results change in the future. This provides an extra margin of water treatment system resiliency in areas where PFAS contamination is a concern.
Homeowners will have the final say in whether or not they are connected to existing municipal water lines. See the FAQ page for additional information.
The costs for implementing projects that connect homes with contaminated private wells to existing municipal water supplies will be borne by settlement funds.
Locations
Build or enhance connections between existing community water treatment systems
Several communities in Minnesota have municipal water supply systems that are linked together through water lines, called interconnects, and have the capability of sharing their water supplies.
Often, these interconnected systems are used only in emergency situations where one of the communities is in need of extra water and the other has excess capacity available. In some situations, communities may want to share their water supplies on a more regular basis rather than only during emergencies.
Locations